E is for Excitement in the
2012 A-Z Writing Challenge
.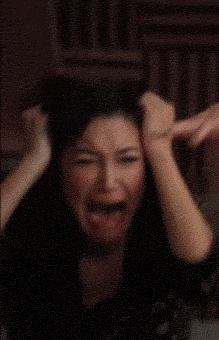 This will be brief. This was me twice, TWICE, this past week. The first time was when the bank informed me that my account had been hacked and I was now in the hole almost $1,000! Excitement! Oh, yeah, heart attack exciting. Although the dirty low-down scumbag tried to spend my hard-earned money on surfing equipment, God-knows-what at the tobacco store ($282 worth!), clothing at Macy's, and, music, all online, by acting fast, the Fraud department was able to stop the processing and all monies were returned to my account. Now, it's up to the merchants to follow through. Never realized how much I used my card. But, it was stopped immediately and a new issue is going to take at least ten days. I'm left with writing checks. Checks! I'd almost forgotten how. But, at least, there was some excitement over the weekend.
Moment two of excitement came when I had to make a call and couldn't find my Bluetooth! It wasn't in my purse, wasn't in my left pocket, wasn't in my right pocket. Where did I leave it? At the dentist? Hardware store? No. I'm getting angry, upset, EXCITED! Where the H--- did I leave it?
Okay, I said to myself, "Myself, go over the day, slowly." Nothing made sense. It was gone. Last call I took was in the store. I was beside myself. How many times do I have to check every section of my purse! It just wasn't there... Sonofab....!!!! Oh, yeah, I'm excited, now! To top it off, a bee flew in my window and sailed right by my head, so I took a swat and. . . my hand hit my Bluetooth! On my ear, ready and waiting to do service. I guess old age means that, now, I not only have to worry about where I've left my glasses but the 21st Century has added a Bluetooth to the pot! My heart can't take this much excitement... I'm going to bed.
For those of you who have just happened upon this page, I'm Entry #424 in a group of 1682 participants in this 2012 A-Z Writing Challenge! Do yourself a favor and check out a group of fantastic bloggers. You're bound to find someone you might like to follow. Don't forget to leave some loving comments and spread the word. It could even inspire you to think about joining next year's Challenge, yourself!