T is for Time in the
2012 A-Z Writing Challenge
.
Time is one of my favorite play-pretties, and it seems to be the same with my friends. It's exacting, elastic, exasperating, and unforgiving (I wish I would've thought of those three "E" words at the beginning of this challenge.).
Those who view time at its most elastic, invariably, end up with those who prefer it to be exacting. Much like couples who are forever fighting over the thermostat. When viewed in its best light, having parents with opposite dedication to time would seem to create a more peaceful household. Bear in mind, I said "would seem." There really is no way to rush someone who habitually arrives 10 to 15 minutes after an event starts. They, on the other hand, have long since learned the trick of setting the clock back so that doesn't work, anymore.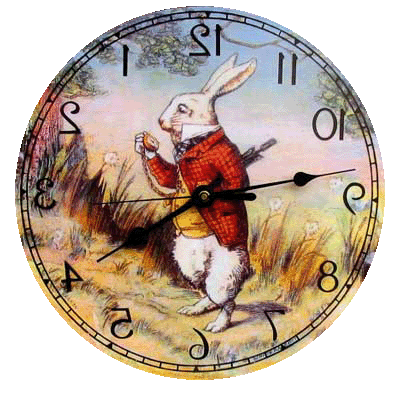 On the other, other, hand, I'm not sure what this says about their respect for the moment or for the people that they are meeting. We have chosen to live in a world that uses a clock to determine when and where events occur. It wouldn't surprise me to find a rebel within the heart of people who choose to not pay attention to the time. Is it because they're jealous? Is it because they're still carrying childhood anger? Or, is it because they are so self-absorbed, they just don't care about anyone else because nothing really happens until they arrive on the scene...
In my early years, when I told time by my dinosaur's shadow, it was easy to be late on a rainy day. Living in a day when one merely has to look at one's cell phone for the time, just how many times do you have to 'understand' why someone is always late.
When, as the legal profession says, "one's estate matures," your time is up. I don't imagine I'll be late for that event. How about you? Are you an on-time individual? Do you arrive ten minutes early? A half hour early? Or, are you the one who always shows up at the theater fifteen minutes late but still expects to be seated during the first act -- which seat, by the way, is invariably in the center of the row, down front...
For those of you who have just happened upon this page, do yourself a favor and check out a group of fantastic bloggers. You're bound to find someone you might like to follow. Don't forget to leave some loving comments and spread the word. It could even inspire you to think about joining next year's Challenge, yourself!