J is for Journal in the
2012 A-Z Writing Challenge
.
Do you keep a journal?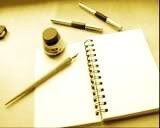 When I was growing up, a journal was something one kept that was far more exacting than a diary. You were recording your feelings about friends and events that you wanted to remember and pass on. And, it never got vicious -- you meant for it to survive the ages and be read by future generations.. (Narcissistic, I know.) My little Dear Diary (rarely kept beyond the first month, or two) with the attached key, revealed the emotional roller coaster of my transition from girl to teen. And, the spell of keeping a 'private' diary was broken as soon as my siblings would find it and share my heart with their world, laughing all the time.
And, then, I had another journal that was (I thought) kept well-hidden because I never told anyone about it. Nothing shocked me more than when I came upon my husband reading that journal with his breakfast coffee. I felt invaded in a way that, even today, I find hard to describe. He said he 'found' it.
When asked what he was doing reading my private Journal, he said it was his way of getting to know me better and to know what I was thinking. So, I asked for his journal so that I could get to know him better and what he was thinking. He said didn't have one because his thoughts were private. (I am NOT touching the psychology behind that dynamic!) That journal, whilst not revealing my absolute deepest feelings about my little life, was my place to explore, come to terms with, and resolve my feelings, about anything that was important to me, at the time. He destroyed that and I never wrote, openly, in the journal, again. It had, then, become just another job. Soon after, I stopped writing in it, altogether.
But, my point is that an offline journal is where your venting belongs. Repeat: Blogging is an illusory world. You live with real people. There's really no excuse for hurting others because you feel a certain way and compelled to write about them, at the time of writing. And, that's the key phrase,
at the time of writing
. We all change, as we grow up, and gain an understanding that often adjusts our first impressions. Your online caustic words will never go away and you don't know when someone you love will read them (and, yes, they do read them) and be deeply offended. Until you can prove that you're the litmus test for what's right and good in the world, let your words be mellow and let other folks have an off-day without judgment. Do you really want what you wrote a few years ago to come back and destroy the older, wiser, you?
For those of you who have just happened upon this page, I'm Entry #424 in a group of 1862 participants in this 2012 A-Z Writing Challenge! Do yourself a favor and check out a group of fantastic bloggers. You're bound to find someone you might like to follow. Don't forget to leave some loving comments and spread the word. It could even inspire you to think about joining next year's Challenge, yourself!